Wild West Exodus – The Good, The Bad, and The Ugly


By Ray Snyder
Wild West Exodus (WWX) is a game that's been around for years, however it's now starting to appear in retail stores, having sustained itself with direct sales from their webstore and several successful Kickstarter campaigns. Recently, a change in ownership has allowed it to expand its reach to include traditional retail stores. Now that WWX is easily available, you might want to know what it's about.
Wild West Exodus is a miniatures game played by 2 to 4 players in control of the faction of their choice. In the world of WWX, every model has the potential to be a hero or a villain. The game mechanics and rule set where development with Alessio Cavatore a very well respected wargames designer. Each player will be allowed to field a posse of 6 to 40 models. WWX is a tactical skirmish game set in an alternate Wild West timeline – branching off from real-life history after the American Civil War in the 1880's. It is played with 35mm miniatures and uses a system that relies on rolling 10-sided dice to determine results. Players adopt a faction (such as Union, Outlaws, and Lawmen) and build their forces with a pool of points dependent on the scenario played.
The Good
The World of WWX is full of great characters; from Billy the Kid, Jesse James, Wyatt Earp, Abe Lincoln, Tesla, Edison, General Grant and many other historical figures are given a dose of WWX unique tech to create both awesome ideas and stunning figures. The fiction in the hardcover rulebook (as opposed to the mini rulebook that was included in the starter set) is surprisingly entertaining, told with short stories instead of the more traditional world building format. Additionally WWX has released six novels and a graphic novel, allowing for players to really dive deep into the world of WWX.
WWX's rule set feels familiar with stat cards that remind me of Warmachine, dice rolling that feels like Beyond the Gates of Antares, and unit activations that remind me of Deadzone or Imperial Assault Skirmish, all of these are games I've very much enjoyed in the past. While aspects of the game feel familiar, the sum appears greater than its parts. the games I've watched flowed smoothly, the order that each player activates his models and how he spends his actions and influence really makes this game shine.
WWX has attractive, dynamic miniatures that are largely cast in plastic, while characters are often cast in resin. The plastic models are very nice and include great instructions on assembly, a necessary feature as the models' parts are not interchangeable.

The Bad
This is a game that's been around for a while with a small core audience that appears to have dwindled in the last year or so. The main effect is that online resources outside of the main website are often old and ill-maintained with broken images or conversations about older versions of the rules. Additionally a lot of posts appear to be of the  "is anyone still playing this game?" ilk as the older and smaller player bases struggled to hit critical mass. Finally for all the time it's been released, it does not appear to have had many reviews until just recently.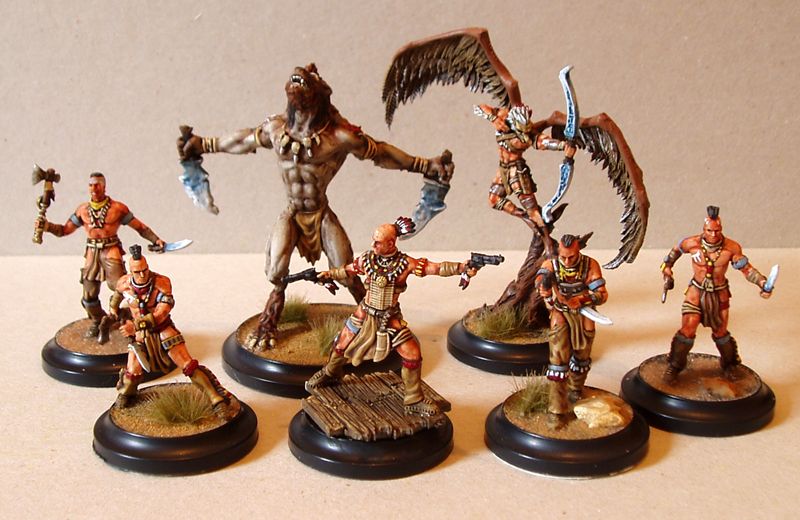 The Ugly
WWX has recently transitioned away from supporting physical stat cards and is switching to a digital format, with all the rules and stat cards available for free online. Additionally, they are selling a huge deck of stat cards that has stats for every model in the game. They just did a big balance review and most the older cards have been updated, so if you get a stat card with a miniature it's probably incorrect in some way of another. I just bought the Outlaws vs. Lawmen starter box and it was missing the stat cards, even though the cards were advertised on the box as included. When I contacted their online support, I was told that the cards were available online and the physical card deck would soon be available for sale, and while they did agree to send me replacements, it did stop me from trying to play the game until I printed my own cards, bought the big card deck, or received the replacement cards.
The Final Showdown
Overall, I'm really excited about the future of Wild West Exodus. It has a huge line of high quality miniatures, a systems that has years of refinement, and a background that is deep, mysterious, and engaging. Look for Wild West Exodus at your local Game Kastle or check out the Rules and Stat cards at Wild West Exodus.com